Rebel Without a Cause (PG-13)
Release Date: January 27, 1955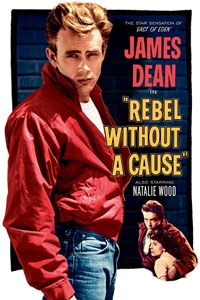 The landmark teen film that solidified Dean's image with the public follows the story of rebellious middle-class teens, disenfranchised with their parents, and given to a life of thuggery and deadly dangerous drag racing to win over women.
Starring: James Dean, Natalie Wood, Sal Mineo, Jim Backus, Ann Doran
Directed By: Nicholas Ray
Run Time: 1 hr. 41 min.
Released By: Warner Bros.